Unlike the tracker tags like Tile or Apple's AirTag, or Samsung's SmartTag which rely on Bluetooth technology to locate a lost item and the fact people could be walking close to them, a proper GPS tracker uses a SIM card to locate the lost item, or to track it's location. You can then use  a tracker app to locate your missing item.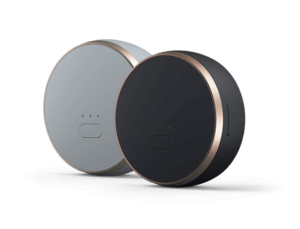 Vodafone's cheapest offering is the Curve, a keyring sized GPS tracker that you use an app to locate. You can also set up "Zones" so that if the tracker enters or leaves a certain pre-defined zone, the user receives an alert.
In addition to being a GPS tracker, the Curve also features a Bluetooth tracker and button to make it easier locating other devices, such as a phone or making it discoverable on the app.
The Curve is a SIM based tracker so requires a Vodafone V SIM to be registered. The Curve costs £30 for the unit, and lasts 3-7 days on a single charge. You also need a contract that costs £3 per month for 24 months or £6 per month on a monthly basis.
The Curve's dimensions are: 16.4mm high and 42.1mm diameter and weighs 30g.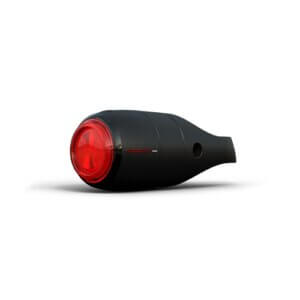 Vodafone sell a bike tracker in the form of a bright rear light that has 3 light modes up to 40 lumens. It even has a sensor that if you brake, the light will brighten to show that you have stopped.
You can enable security mode by removing the light.
There is also impact detection and can send alerts to loved ones if you have a fall.
You also get a "ride insights" history feature to show where you have ridden.
The Curve Bike costs £79 and the SIM plans are £3 per month for 24 months or £4 per month for 12 months.
Vodafone "Kippy" V-Pet Tracker
Vodafone's V-Pet tracker provides alerts if your pet strays out of their "safe zone" as well as recording an advanced fitness program for your pet. The unit has a 10 day battery life and the LED can blink for up to 24 hours.
The "Kippy" costs £99 and comes with a free 12 month SIM contract, then costs £4 per month.
Rewire DB2 Self Install Vehicle Tracker
Rewire Security sell a vehicle tracker that you attach across the battery of your motorcycle or car and it will track your vehicle's location.
If you have more than one designated driver, there is an optional feature that identifies the driver of the vehicle based on a tag. The tracker provides driver monitoring, reporting location and speed of the vehicle.
This unit costs £59.99 and the SIM package costs £15 for 3 months, £30 for 6 months, £60 for 12 months and £120 for 2 year. The driver tags are £50.
Rewire DB3 OBD Vehicle Tracker
Just like the DB2 provides a self install vehicle tracker, the DB3 offers this in an OBD device you plug into your vehicle's diagnostic port and it will relay fuel level as well as diagnostic information remotely.
It costs £79.99 + the SIM package.
There are many really cheap so called "GPS" trackers around, but these devices often don't contain a GPS tracker, they may use AGPS which a software approach that uses the widely inaccurate cell tower reporting system, so for precise tracking you need to spend more money.