I have covered these printers in the past, but it seems the big three printer manufacturers now sell ink tank printers, so worth giving you an idea of price and features from all three. Epson's EcoTank; HP Smart Tank and Canon's Mega Tank ranges, all of which appear to start at around the same price.
What are ink tank printers?
Printer manufacturers have been selling cheap printers for a while and capitalising on the expensive ink cartridges which contain a tiny amount of ink. While these printers are still in the majority, Epson started noticing companies making CISS (Continuous Ink Systems) which replaced the ink cartridges with ones with a tube to a larger tank outside the printer. Capitalising on this idea themselves, they started making Eco Tank printers.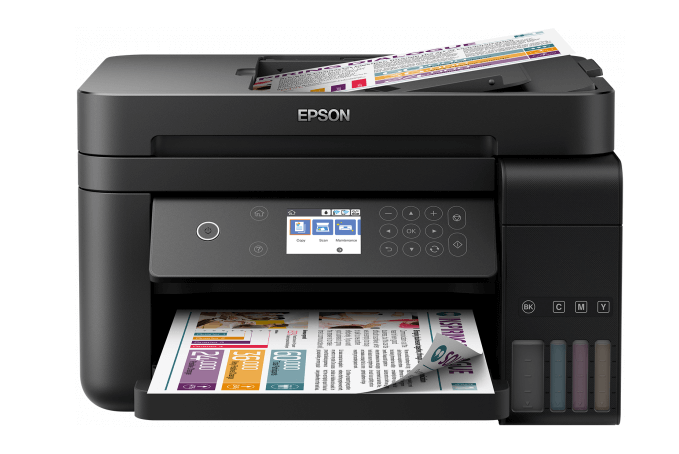 For home use, the Epson Eco Tank ET-2710 and ET-2711 printers are priced at £189.99 and can print 33 pages per minute in black and 15 pages per minute in colour, with photos taking 27 seconds to print for a 4″x6″ (10cmx15cm). The printer uses manual duplex, so if you want to print on both sides, you have to load the page the other way up.
The automatic duplex model ET-2756 costs £259.99, which has a colour LCD display and can take memory cards as well as including an extra bottle of black ink.
For business use, the ET-4700 costs £259.99 and has an auto document feeder at the top, but if you want automatic duplex for double sided printing, ET-3750 costs £329.99.
Ink prices
The ET-2710, ET-2711 and ET-3750 use number 104 ink which prints an average of 4,500 pages in black for £9.49 and 7,500 pages of colour for the same price. A multi pack can be bought for £36.49.
The ET-2756 and ET-4700 use number 102 ink which are higher yield of 7,500 black for £13.99 but smaller colour inks of 6,000 for each colour for £8.49 with a multi pack for £37.99.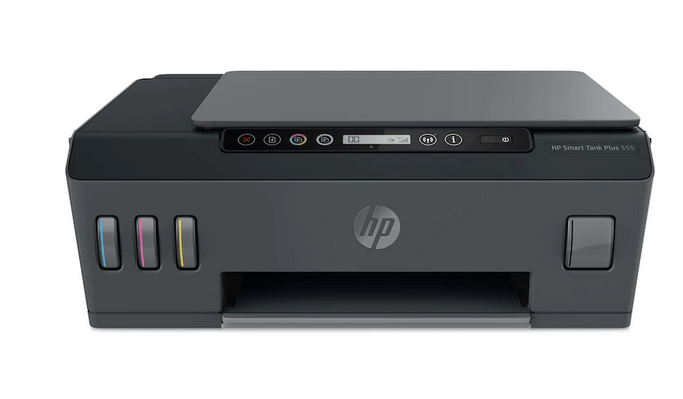 HP also offer three ink tank printers, the Smart Tank 455 which costs £169.99 and has tanks that store 8,000 black and 6,000 colour pages from the tanks on the printer. The print speed is 8 pages per minute for black and 5 pages per minute for colour.
The Smart Tank Plus 555 for £199.99 can contain 12,000 pages of black and 8,000 colour and has a faster print speed of 11 pages of black and 5 of colour.
The Smart Tank Plus 570 for £250 also features an automatic document feeder.
All these HP Smart Tank printers are manual duplex.
Ink prices and nozzles
The 455 uses a 328 black print nozzle and a 588 tricolour nozzle but the 555 and 570 use the 704 black nozzle and the same tricolour nozzle. Nozzles will last 1.5 – 2 years however HP have no prices for these nozzles.
These printers take the 32XL 135ml black for £13.00 and 31 70ml colour for £10.99 each.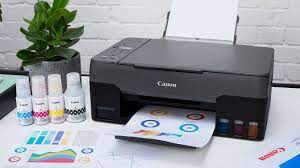 Canon have a much larger range of Mega Tank printers than HP or Epson do, the home models being the G550, which can only print, and the multi function G650 which is a printer, scanner, copier.
The G550 uses 6 dye based inks (3 on each side) with the left side carrying black and grey with the right carrying red, cyan, magenta and yellow and is priced at £199.
The G650 is priced at £249.
Canon measures the print speed in ipm or images per minute rather than pages per minute and these printers take 3.9 ipm to print both black and colour.
For a business printer, there is the G4510 printer, scanner, copier, fax with automatic document feeder. This printer takes 4 inks and costs £299.99, however this printer does not do duplex it does print faster than the home printers above at 8.8 ipm for black and 5 ipm for colour.
For the duplex model, the G7050 has this feature for £389.99 as well as a larger capacity automatic document feeder.
Ink prices
The G550 and G650 take GI-53 ink bottles that cost £13.99 each and can print up to 3,800 pages.
The G4510 takes GI-590 inks at £9.99 each
The G7050 takes GI-50 inks for £12.99 for 6,000 pages of black and £9.09 for 7,700 pages of colour each.
Since these manufacturers now offer ink tank printers that you can clearly see how much is left in each tank, you have the power to decide when to top them up based on your usage, rather than finding you've run out of a colour and the printer holding you to ransom until you insert more expensive cartridges.
It also saves you being tied into a contract to supply ink cartridges on a monthly basis for a printer that you may use more on one month than another.
However, ink tank printers have the same problem as inkjet printers in that they need to be used once a week to prevent the pipes and heads from clogging.