One of the big things with technology is that it is always changing, and often we learn on the job. Today was the turn of a Chromebook. Google Chromebooks are a cheaper alternative to a laptop because they are designed for content consumption rather than creation.
If your printer sets up a Direct Wi-Fi interface, these are for people who don't use a router to get their Internet, perhaps they use their phone to connect using mobile broadband. Or if you are on a network that isn't connected to the Internet, you can still print without it.
However, if you connect your computer to the Direct Wi-Fi, you will be disconnected from the Internet.
The better approach is to configure the printer to connect to your router's Wi-Fi and access the printer that way, you get both Internet and printer access. Ignore the Direct printer Wi-Fi network.
Make sure you tell your computer to forget that Wi-Fi network, because if you get disconnected by your router for any reason, your computer will connect to your printer instead.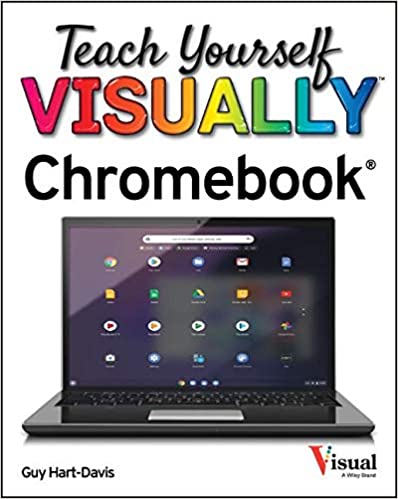 Forget For Dummies books, as they are reference books so you need to know what you want before you open the book. I recommend Teach Yourself Visually, as you see the screens in the book of the software you are using.
In this case, the customer has a Chromebook, and this book is available for around £16 online.
This is the go-to beginner's guide to any computer I recommend to my customers.
With a traditional laptop computer, everything you do is typically saved to a local hard drive on your computer, everyone worked this way regardless of whether you had a desktop or a laptop computer in the past, you'd save a file on a floppy disk and later to a memory stick if you were wanting to share something with others.
Forget the old way of doing things with the Chromebook, you are now doing everything Google's way.
Chromebooks store everything in the Google Drive and pretty much everything you do is from a web page. If you want to write a letter, you open Google Docs in a web page, if you are creating or editing a spreadsheet or presentation you do it in a web page in the web browser.
Everything is saved automatically to your Google Drive. If you want to send a file to someone, you can go to your Google Drive and create a link to that file and copy that link to your email. When you send the link, it can be opened from  your Google Drive by the person you sent it to and accessed that way. It doesn't matter if you are sharing a video or a photo, a document or PDF, it's accessible over Google Drive without having to worry about the size of the file you are sending by email, it's all been thought out for you.
Scanning with a Google Chromebook
Setting up a wireless printer is easy, you just add it as a printer on your computer and it usually sets itself up.
It's not as easy as Apple AirPrint, which you just choose print and the printer appears on the device.
You may need to choose the driver to make it work. However, it's more complicated when you want to scan. In this case, it's an Epson printer and you have to find out the IP address your printer is set up on, put that in your web browser and log in as the administrator to access the Epson Connect system.
You need to register with Epson Connect before you can do anything. Log in with your new account and you can go into the destination location and add Google Drive to this. You can add iCloud and OneDrive (although at time of writing it wasn't working
On the printer, you can now go into Scan, then choose Cloud and once you do that, you choose the destination and then press the copy button and it will scan to your Google Drive.
Don't use Direct Wi-Fi if you have a router.